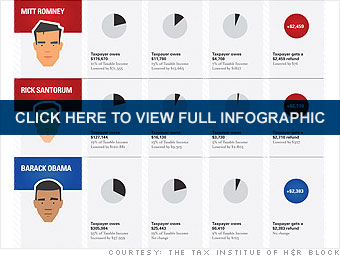 Every single 2012 candidate wants to change the U.S. tax code.
Some of the changes would be quite drastic (I'm looking at you, Ron Paul.)
Other candidates propose far more modest changes. In general, every Republican candidate wants to lower taxes. President Obama's biggest modifications would result in the rich paying more.
CNNMoney has covered the proposals from Obama, Paul, Newt Gingrich, Mitt Romney and Rick Santorum in some detail.
But now our friends at The Tax Institute at H&R Block have produced this cool graphic (click to enlarge) that breaks down how much more, or less, Americans in each tax bracket would pay under each plan.