The poor stay poor
April 26, 2012: 6:00 AM ET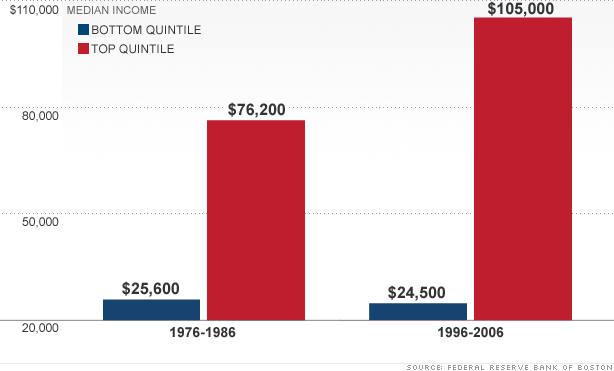 The poor are finding it even tougher to escape from the lowest income ranks these days.
Most of those in the poorest income quintile spent all or nearly all of the period between 1996 and 2006 stuck in place, according to a new report issued by the Federal Reserve Bank of Boston. Those who did advance didn't move far.
The research, conducted by senior economist Katharine Bradbury, shows that economic mobility has also slowed in recent decades. Those in the poorest fifth of the income pie were more likely to stay there between 1996 and 2006 than they were in the previous two 10-year periods.
"Most of the long-term poor are stuck at the bottom, most of the long-term rich have a strong grip on the top, and each of these two groups is somewhat more entrenched than the corresponding groups 20 years earlier," she wrote.
The spread between the rich and poor has also widened, as income inequality increases. The difference in median income between the highest and lowest quintiles was $80,500 during the 1996-2006 period. That's nearly $30,000 more than it was two decades earlier.
This stagnation means that not only is it harder for individuals to climb the economic ladder, but it's also more difficult for poor parents to raise their children's prospects, Bradbury said.